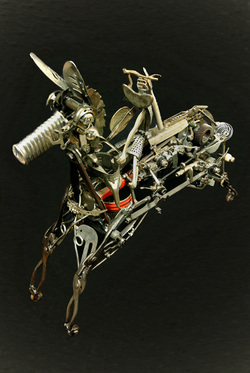 The Story Of Atlas
Atlas had a little boy that loved him. He was built by that boy and lived with him next to the city dump. The little boy didn't live in a nice home because his parents were quite poor. But, he was blessed with a great imagination and used it to make his own toys. To him, living next to the city dump was like living next to the biggest toy box in the world. He made lots of toys. He made little people by twisting wire around sticks and pieces of cloth. He pulled them around in a 8 wheeled wagon that he made with old lawn mower wheels and a wooden crate. Once, the boy made a pirate ship out of an old couch, some cardboard and a metal bed frame. He played for weeks on that couch and sailed around the world seizing other vessels and stealing treasure from the rich who don't appreciate it.
But, Atlas was his favorite ! Atlas was a horse made of many odds and ends along with a rider that took weeks to build. When the little boy finally finished, Atlas and his rider seemed to come alive. He imagined that Atlas was the strongest horse that ever lived....And, the rider on his back was the bravest warrior. The three of them fought many wars against dangerous enemys from this planet and others. Many times, they were wounded and near death before finally winning the battle. The conquests went on for weeks and months.....Sometimes, they lived peacefully in the backyard with no one to bother them.
Other times, they saved poor people from evil landlords that steal toys and make people move. Atlas was the little boy's best friend...As time went by, the little boy met other boys in the neighborhood. And, he wasn't so little anymore....


Eventually, months turned into years and Atlas and his rider went on fewer and fewer adventures. Finally , one day the boy's mom came and picked up Atlas and put him on a shelf out in the garage. And there, in that dimly lit room, is where they sat while the little boy grew up , became an adult, and finally moved away.
Atlas and his rider have not forgotten all those wonderful days and that little boy's imagination. They just wait patiently for the next boy or girl to come along and discover them. A sense of adventure never leaves us........it only waits patiently for the right time and the right person.

By,


JL Thompson
---
Florida's Retirement Handbook



PREFACE: "Let's Break Something"

This is an exercise for the benefit of all the retirees that arrive in Florida from somewhere else. I have noticed the lost look on many of your faces and hope to assist you in this new chapter in your lives. In my art studio, I use the sound of breaking glass to keep my mind focused on the present. I will ask you to use this technique while reading the chapters of this retirement guide. The sound of shattering glass will not only bring you into the present, but it will also wake you up and get you ready for what you are about to read. For many people, the best chance you have for happiness will be to remain in the present.

As far as breaking stuff goes, I throw beer bottles into a steel trash can. This is loud as Hell and works great! But, you can break whatever you want, however you want. Remember, this book does not come with bandages. So, be careful!

CHAPTER 1

"Break Something Now!" Okay, first of all, you are in Florida right now! You are nowhere else! Welcome!!! Since reinventing yourself takes time, let's try to zero in on your interests. I think the best way to do this is to try to do the opposite of whatever your career path used to be. Remember, we're not trying to find you interests or hobbies for the next twenty years. We're just trying to counter act the mental programming that went on in your previous life. Or, just bring you back to your natural center.

So, for instance, if you worked for an insurance company for several decades, you may want to make a list of 5 things that are new to you and pose a moderate risk. You can choose some new activities or allow me. The following is a random list of things you might try:

1) Go swimming in the ocean off shore where you can't touch the bottom. Even better, take a few surfing lessons!

2) Go fishing "until" you learn to catch fish. Then, learn how to clean them. (BTW- Fishing rods are not the only way to catch fish. Consider cast nets and spear guns.) And, cleaning a fish is an art form and takes practice!

3) Go online and search "Craigslist" for a bicycle. (Preferably, a single-speed, beach cruiser.) Now, offer the seller ten dollars less than they are asking. Once you purchase this bike, take it home and oil the chain and tie a plastic milk crate to the handle bars with a bungee cord or rope. Go over the rest on this bike with your keen eye and some WD-40. (By working on that bike, you are creating ownership and an emotional attachment. Cowboys used to brush their horse………you will be oiling your bike!)

4) Choose one night a week to be ethnic food night. Go online and check out all the great recipes from around the world. Pick a different country each week. Also, make sure you buy the corresponding countries beverage to go along with the meal. If you do not cook or wish to learn, pick a new restaurant each week and try something new. If you do not drink beer or wine………..start! (It's good for what ails ya!)

5) Stop avoiding the panhandlers! When one of these down trodden human beings comes up to you, look them in the eye, ask their name and give them a dollar. Make no moral judgments about them and don't break your arm patting yourself on the back………It's only a dollar! (God knows under different circumstances that could be you or I.)

Now, this particular list was tailored for someone who might need to get be reintroduced to a little excitement due a mundane and repetitious lifestyle prior to arriving here. Some of you may be the opposite. For those of you who had plenty of excitement, how about spending a year or two reading the world's great literature or learning to appreciate art! (I can help you with that one.) Remember, what we are trying to do is find our center and stop mentally living in a different time. We are unraveling the corporate sweater that allowed us to put some "green' in the bank , but ended up stealing our spontaneity and self-worth.

CHAPTER 2

"Break Something Now!" This chapter is about gratitude. Feeling grateful is the fountain from which peace and happiness flow.

When I was growing up outside Atlanta, Ga. many years ago and during the hottest part of the summer, myself and the other guys in my neighborhood would all pile in one of our parents cars. Then, we would shut the doors, start the car and turn on the heater. We would all sit in the boiling hot car until someone gave up. (One of the many mindless things I did growing up!) When we finally came pouring out of that hot car, the air around us felt cool. And, for about an hour or so after that, it felt like a nice Fall day outside instead of the heat wave we had been
experiencing. So, like most things in life, it's all a matter of perspective and contrast. We feel the same appreciation when we finally recover from an illness or injury. This leads us to your next challenge!

I want you to pick out something several times a week and remove it from your life temporarily. By temporarily, I mean for at least one day. And, while you are doing so, I want you to imagine it is gone forever and you will have to adapt to its absence.

Once again here are a few suggestions chosen at random:

1) Do not use the hot water when you shower. Purposely leave it off!

2) During the summer, do not turn on the A/C for a day. During the winter, don't turn on the heat.

3) Do not drive your car or bike to the store. Walk to the grocery store and carry a big bag of groceries all the way back home in your arms.

4) Pretend your refrigerator doesn't work and drink your liquids at room temperature. Next, pretend the stove doesn't work and eat some food right out of the can.

5) Rent or borrow a wheelchair for the day. Try to do everything you would normally do out of that wheelchair without using your legs.

6) Unplug your TV, computer and all other electronic devices for a day or two. Or, a year or two!

7) If you live in a rural area, go to the bathroom outside in the woods for an entire day.

8) Wear some really unattractive clothes to the grocery stores or mall. Make sure they don't fit or match!

9) Try to panhandle some money. And, if you do not get any money, then you do not get to eat that day!

---- These are just a few ideas of things that may temporarily alter your life but remind you of how fortunate you truly are. And, they will give you compassion for your fellow man. Keeping our blessing in front of us, staring us right in the face, will help us remember and appreciate all the days we are given. Remaining in the present and dwelling in a state of gratefulness is a wonderful way to live one's life.



CHAPTER 3

"Break Something Now!" Wow, that was loud! Good job! This chapter is going to show you how to feel better about yourself and your value as a member of the community. I want you to consider all the life experience you have attained. I am willing to bet that you have many talents and skill sets that other members of your community would love to take advantage of. So, in this chapter, I want you to list five ways you can give of your time and energy to individuals or groups in your local area. There is always a great need for mentors, tutors, handymen, volunteers and so on. In addition, the food pantries and soup kitchens these days need LOTS of help! Checkout "Craigslist" also. Look under "Items Wanted". You will see where many impoverished people are trying to locate basic items to make it through another day. These items usually are simple necessities and could be located and dropped off to these people with little effort. But, it may change their living condition tremendously! Again, don't break your arm patting yourself on the back! We are supposed to be doing this for each other..... We are not supposed to be sitting around "surfing the internet" or watching TV searching for the things we don't already possess. Try to avoid telling everyone about your philanthropic endeavors. We are not going to cash in our chips down here. No one needs to know what you are doing! Boasting about your deeds will erase all good will, karma, mojo, or whatever term you would like to call it. Simply hold this knowledge inside and it will become your inner strength and will affect how you think and how you feel each day. This warm feeling will get you out of bed each day and constantly remind you of yourself worth along with those you have helped. And, one day there Will be a pay-off for all you have done for the people around you. But, not down here…………..that's just how it is!

Best of luck,

JL Thompson





The Tornado and the Congressman
I have told this story many times. It illustrates the pinnacle of success I had achieved during my lofty real estate career:
During October, many years ago, I was working in one of my trailer parks, as usual. Turning a corner behind the trailer, I almost got bitten by a mean, chained up dog. As I jumped back, I got a glimmer of something shiny from across the park. I thought to myself, " nothing was ever shiny in this place". So, I started walking over to investigate. It was a new black SUV and it was just sitting there at the entrance. As I approached, prepared to give the occupants direction to somewhere else, a man with a video camera got out. Then, our local congressman hopped out and started walking towards me with his hand stuck out......He said, "Are you the owner?" I said, "Yep, ya'll lookin' to rent a trailer?" We both laughed. He laughed longer! Then he started, " Sir, we came here to let you know that we are All aware of the terrible destruction that tornado caused ya'll on Monday." (This was Weds.) He continues, "When I look around this place, I am amazed anyone survived. I want everyone here to know that our thoughts and prayers are with you. And truly, it is a testament to God's love for his people to allow anyone to have survived a catastrophe of this magnitude!" Now with tears welling up in his eyes he says, "Nobody should ever be expected to live in a mess like this and I will not let it go unnoticed. All the resources available to me or my constituents will be available to make this place habitable again!"
Finally, as he took a breath, I said, "Sir, that tornado hit on the other side of town.........
JL Thompson
Stompin' Dog Noses............
by
Joe Thompson
I found myself at an art show last week thinking about my father's side of the family that lives in Possum Trot, Alabama. Art is all about contrast and I think that may be what sparked the memory. I was surrounded by the educated and well mannered art crowd and here I was thinking about my not so pleasant childhood memories from PO-Dunk, Alabama. Thinking back, I had only been back to that old farm in Alabama a few times. My sisters never went. Each time left an indelible memory for me to ponder later. This time, I remember waiting in the living room for the women( my four aunts) to cook dinner in the kitchen area. (Same room separated by a big, old couch.) In the living area, every single place to sit had a red coffee can on the floor beside it. The can was about half full of sand and caught the snuff spit from the adjacent red-neck. Our family was more civil than our neighbors due to this slight but important social grace of having sand in our spit cans. Anyway, from the living room you could watch the crew in the kitchen carry out the sentence of whatever barn yard animal's number had come up that day. This day, it was going to be "chicken and dumplings". Oh boy! Fortunately, and I'm sure because of my presents, my aunts rung the chickens neck and plucked it outside. So, they bring in this chicken carcass and begin to chop it up with a cleaver. Then they chunk it in a pot with some vegetables and who knows what else. The pot was placed on an old gas stove which starting to get that caldron of goodies warm. This is when I started seeing these meat balls appearing from under the floor boards.(I was about 8 or 9 yrs old at the time.) Meatballs that were breathing! Everyplace where a knot had fallen out or a large crack had formed, had these things wedging themselves up from below the kitchen. My Aunt Tootsie saw them first and stomped down on one and I heard a dog yelp from underneath the house. Next, all four of my aunts were stomping around the kitchen trying to prevent this smelling voyeurism by the dogs to go on any longer. It became funny to me after the shock wore off. And, I don't think they hurt the dogs……… much. I know the dogs were well fed after we had dinner. (Because no one ate that "Carcass and Dumplings.) Anyway, I can't explain my thought processes and that "flash back" to my youth. After all, I am an artist not a psychiatrist. But, I can tell you this. " Watching four women jump around in a kitchen trying to stomp dog noses is more interesting than most of the art talk that I am privy to hear. This I am certain of!!"